Well, it's that time of year.  For many of you reading this, snow is coming to your area if it hasn't already shown up.  As a landlord, you may be wondering what the best way is to inform your tenants about snowfall on the property, when they can expect snow removal, or issue a snow removal notice to tenants.
With all its winter wonderland mystique, winter can also be brutal for many. There is so much to consider when living with snow—getting out the front door, clearing your windshield, and the possibility of not getting out of the parking lot because of snow.
There are many considerations for a landlord, so it isn't surprising if the snowfall isn't at the top of your mind. Whether it's May and the flowers are blooming, or October and the air is getting crisp, it matters that you give the winter months and conditions serious consideration in your lease agreement.
This article will cover who is responsible for snow removal, what is a snow removal policy, how to add verbiage about snow removal in your lease, and how to easily add a fee, if needed, to your tenants' rent transaction via PayRent.
Who Is Responsible for Snow Removal?
In most areas, landlords can delegate snow removal to tenants of single-family homes. However, many local laws typically require that landlords take responsibility for the snow removal of multifamily housing.
State laws determine who is responsible for snow removal, so whether it's your responsibility or how and when it's your responsibility depends on the state you reside. It is important that you include verbiage about snow removal in your lease so that all requirements are clearly stated. This will foster a better landlord-tenant relationship as both parties know what is required and expected.
Many laws include common themes about snow removal.  For example, it's not legal to plow, shovel, or deposit snow or slush onto the roadways just off your property, and walking paths should typically be cleared within a certain time frame after the snow has fallen. Street parking is another topic you will want to address with your tenant. Many cities do not allow street parking when it snows to allow for snow removal by plow trucks.
Municipalities May Differ from State Laws
Be mindful that towns and cities may have different ordinances than the laws in your state regarding snow removal. For example, Ohio doesn't have a state law about snow removal, but there may be ordinances about snow removal.
When checking on your state and local laws, keep in mind certain snow removal aspects that could directly affect how you go about speaking with prospective and current tenants, as well as writing the information in your lease agreement. 
What Is a Snow Removal Policy?
A snow removal policy is a notice to all tenants explaining what you, the landlord, need them to do regarding snow removal. It is asking for the cooperation of every tenant for their benefit by avoiding hazardous conditions for everyone.
The policy can include but is not limited to a reminder of tenants' areas of responsibility, what to use to remove the elements, how long they have to perform the duties, and any consequence to them should they fail to do so.
In addition, we suggest allowing them to contact the landlord/manager with any questions or if they can't comply.
Free Snow Removal Notice to Tenants
You can download a free copy of a snow removal notice here: Snow Removal Notice
To edit the document:
Select 'File' from the Header.
Choose 'Make a Copy'.
You can now make any edits needed to the document.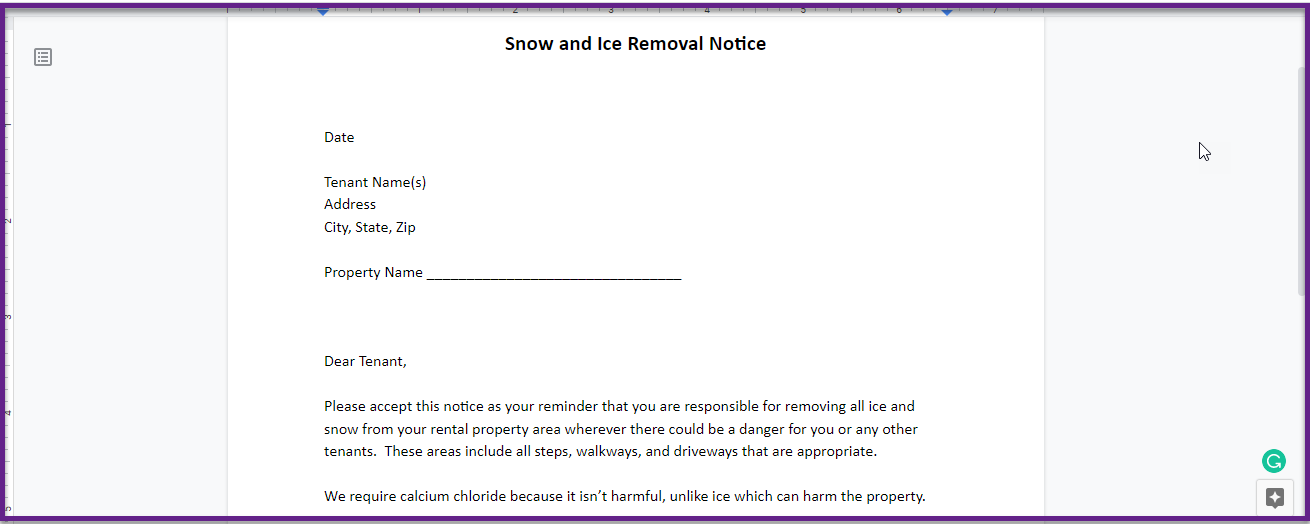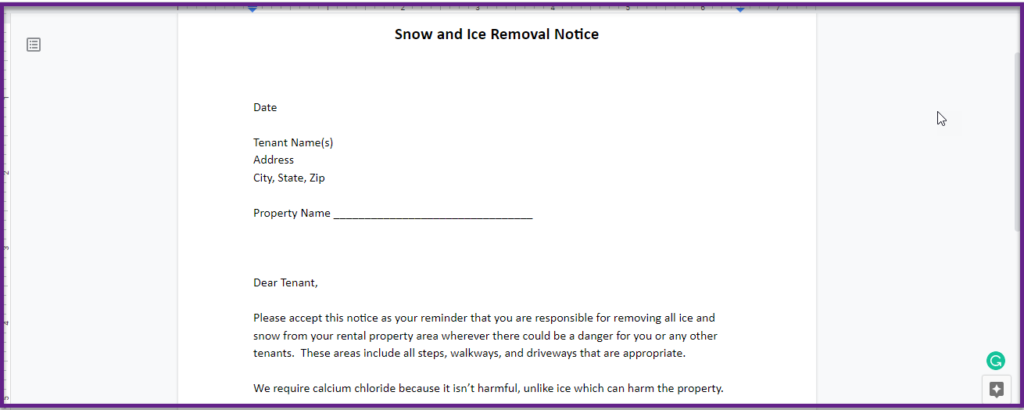 Add Your Snow Removal Fee Easily
If any fees must be assessed for not removing snow and ice as shown in the sample notice, you can add the transaction via PayRent to the tenant's payment ledger.  Tenants will receive a notification of the added transaction and, if you require full payment, the tenant must pay the entire balance on the account to submit their payment.
If you haven't already tried PayRent as your go-to rent collection app, this is an excellent time to check out pricing and plans and "try before you buy." The efficiency that comes for both you and your tenants when working with PayRent is unmatched.
Final Thoughts
While thinking about the "what ifs" of winter can be overwhelming with everything else you have to do, the importance of a snow removal policy cannot be understated.
Ensuring a snow removal policy and that tenants are responsible for their part takes care of a few items—preventing injuries, preventing lawsuits, and keeping your property looking fresh and inviting.
Please consider making sure that a snow removal policy is in your lease agreement and that you have a snow removal policy and notice as part of your business operations.