RentCred ™ is an incentive program for renters that rewards them for consistently paying their rent on time through PayRent.com. As they build a payment history with us, they earn the ability to borrow up to $500 as an installment loan for emergency rent payment and to report their rent payments to credit bureaus to build a positive credit history. Renters benefit from improved financial well-being while landlords have more options and incentives at their disposal to collect rent on time every time.
To qualify, renters must make on-time payments through the platform a specific number of times to "unlock" RentCred benefits.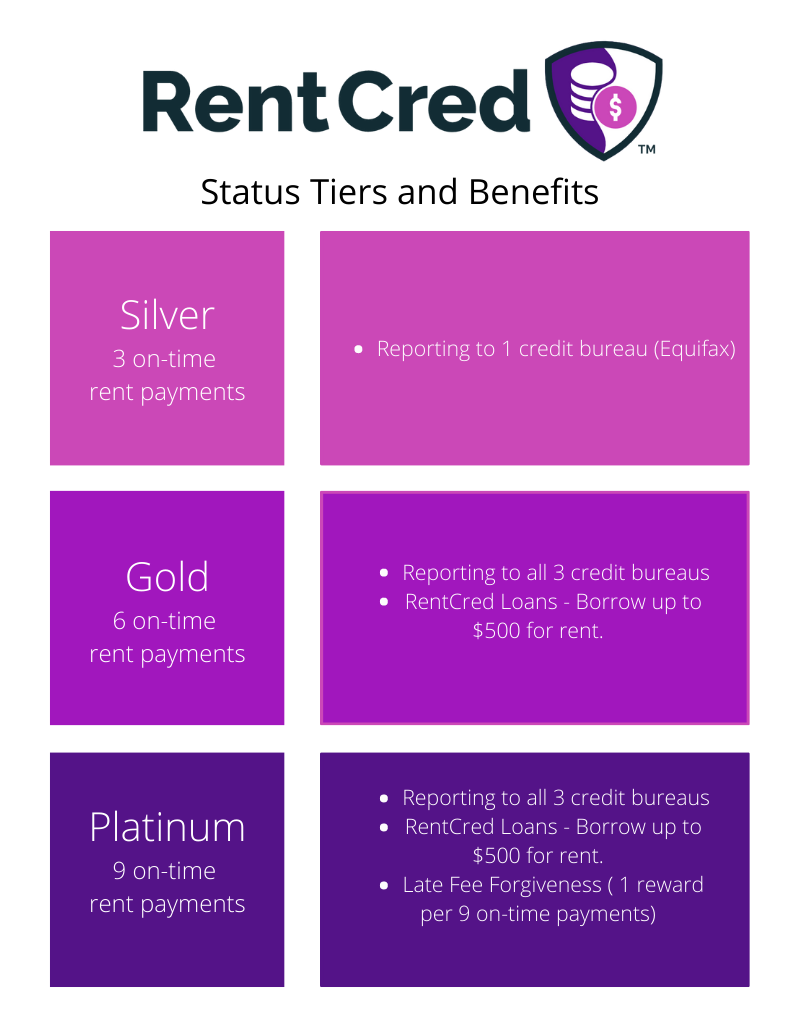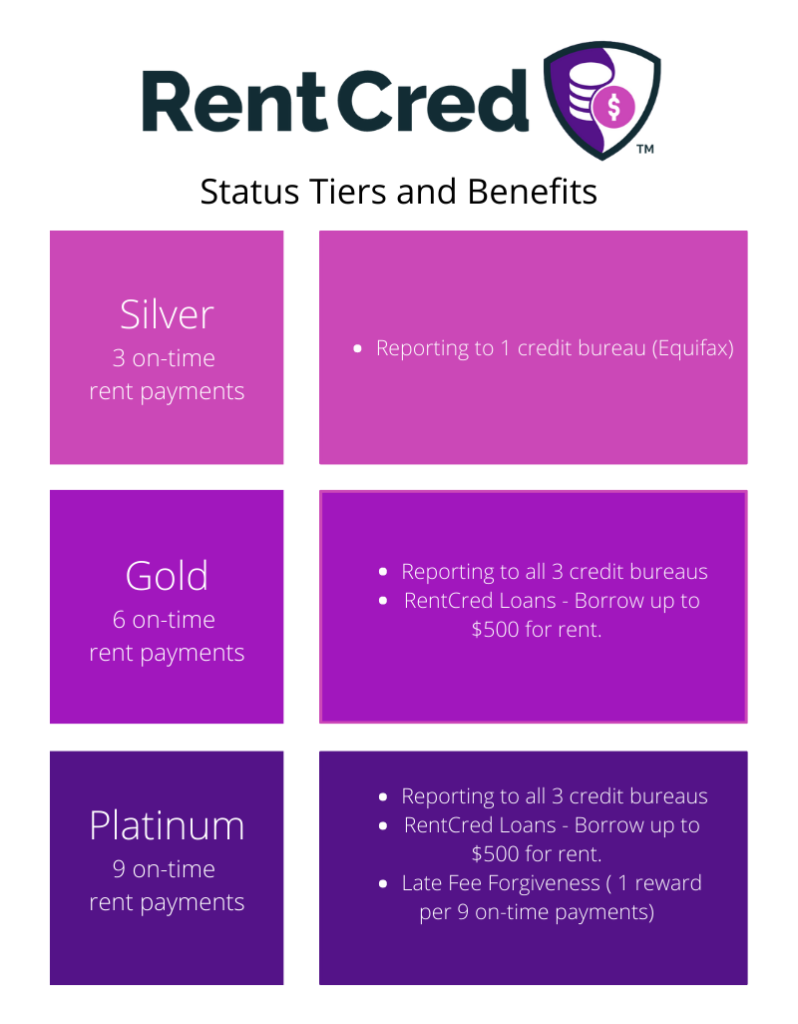 Program Features
RentCred Rent Reporting
PayRent provides renters with an opportunity to build credit by reporting positive rent payment history to all three credit reporting bureaus (Experian, Equifax, Transunion). The feature is unlocked when a renter has made a minimum of 3 on-time payments through the PayRent app.
How does it work?
To opt-in to rent reporting, the renter can add their birthdate and social security number on the RentCred screen. This will enable reporting rent payments automatically when they are made. There is nothing else the renter needs to do to start reporting.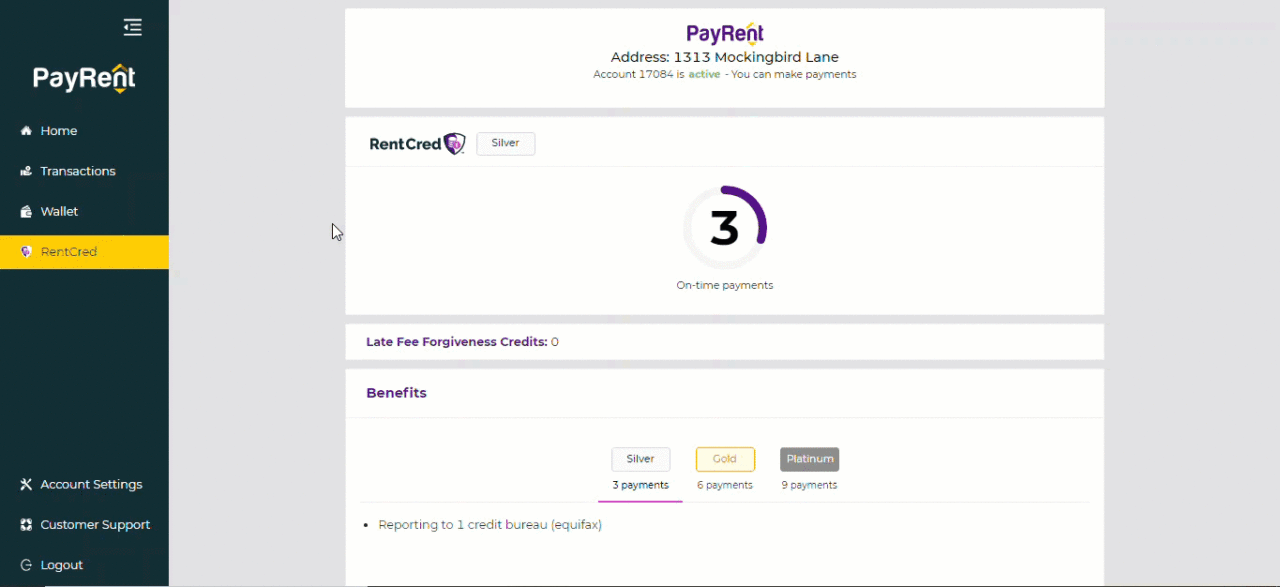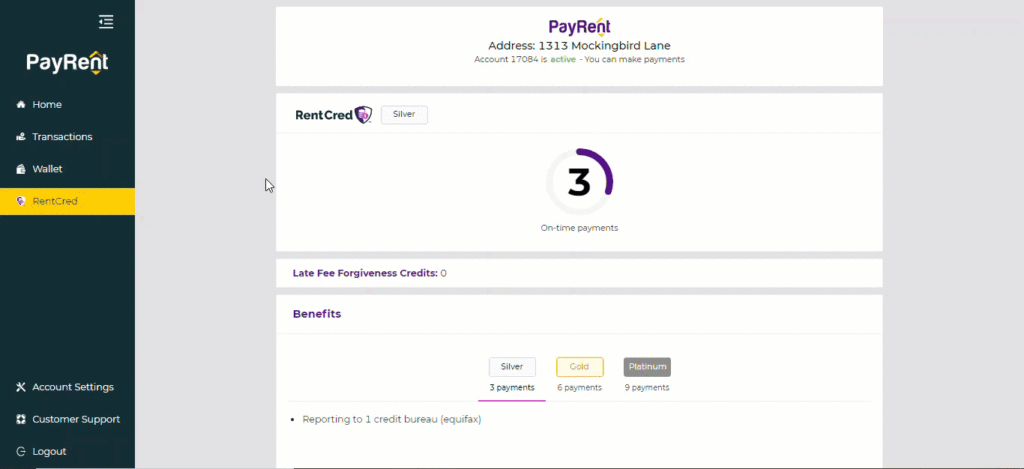 RentCred Loans
As part of RentCred benefits, gold status renters can borrow emergency cash for rent should the need arise. Qualifying renters can borrow up to $500 toward their rent payment with no interest. Renters incur a one-time transaction fee of $20 at the time of loan acceptance.
How does it work?
Once a renter has reached RentCred Gold Status, (6 on-time payments), they will have access to a new payment method on the payment panel. Choosing this payment method will take them through a checkout process where they can set up an installment payment plan and accept the terms of the loan. Renters will need to pay anything in excess of their loan amount at the time of checkout with subsequent payments scheduled for every two weeks for a total of 6 weeks.
RentCred Late Fee Forgiveness
RentCred Platinum renters earn one Late Rent Forgiveness credit for every 9 on-time payments. These credits are applied automatically to offset any late fees imposed by their landlord should the renter incur them.
How does it work?
Every on-time payment gets renters closer to qualifying as a RentCred Platinum renter. After completing 9 on-time payments, renters are automatically granted one Late Rent Forgiveness credit. Every subsequent 9 on-time payments will earn them an additional credit. Once a renter has one or more credits, we will work with their landlord to waive a late fee should one be incurred. This will redeem one of their credits. Renters can view their credits from the RentCred screen in the PayRent app.
RentCred Late Fee Forgiveness FAQs