Property management software for small landlords is a fast-growing industry as landlords turn to technology for help with the day-to-day and month-to-month tasks of property management. These online options ease the workload of landlords without sacrificing the profitability of the properties.
Suppose you have multiple properties or live far away from your rental property. In that case, it's probably a good idea to hire a property management firm to collect the rent and help maintain the property. Typically, a management company will charge 8-12% of what you charge for rent. It sounds like a lot, but there are many tasks that they will be performing; advertising vacancies, screening prospective renters, collecting rent, and hiring contractors to repair plumbing, electrical, and HVAC issues. 
If you've chosen to be a Do-It-Yourself landlord, then you'll have to take care of that clogged sink yourself. The good news is that all the profit stays in your pocket and whatever you spend on maintenance and repairs is tax-deductible. If you have a long-term tenant you trust, then you have a steady income stream you can count on. Many landlords are turning to property management software to help them handle the many tasks they are faced with.
Tasks for DIY Landlords
When you've got tenants moving out and new tenants moving in, your to-do list can quickly become overwhelming. Here is a partial list of things that you need to accomplish:
Cleaning: This is not a quick spin around the house with the vacuum cleaner; it's a deep, behind-the-refrigerator kind of clean. If you have relatively new carpeting or tile floors, then you may steam clean them. The bathrooms and kitchen need to sparkle.
Check the plumbing: Is everything working properly and leak-free? The tiniest leak can turn into a flood without warning.
Check the outlets: Are they all working and up to code?
Light bulbs: Make sure all the lights are working.
Simple fixes: Clean cabinets and drawers and replace any missing or broken handles.
Major renovations: Hate that carpet? This is the perfect time to complete any major upgrades or repairs.
Change the HVAC filter: This a great time to install a smart thermostat or make any other energy-saving improvements.
Paint: The cheapest thing you can do to upgrade your unit quickly is by adding a fresh coat of paint.
Check smoke alarms: Replace all the batteries in smoke and carbon monoxide detectors.
Phase one can begin the moment your tenants hand you the keys. Then comes phase two; conducting credit and background checks, signing a lease, collecting deposits, and completing a thorough inspection to ensure that everything looks great and works properly. This is a lot of work to do for one person. It's a lot of work for a crew.
How can one person keep track of all these tasks, vendors, and paperwork without missing anything? Add an extra property or two, and you may quickly find yourself in over your head. Many landlords find themselves turning to property management software to help them manage their rental business.
Property Management Software
Property management software for small landlords can simplify and streamline many of these tasks without legal pads, post-it notes, and old-fashioned paper checks. You have dozens of software solutions to choose from, so let's review a few of the best options.
To ensure the best solution for your business, locate the tasks that require the most effort or take up a good portion of your time, and find a program that will simplify it for you. You may need a program that takes on a majority of the listing, screening, and rent collection aspects of your business, or you may just need help in one of these areas and an al a cart solution would suit you best.
With over 36 million visitors a month, Zillow is one of the best places to list a rental property. Easy-to-use tools help landlords screen applicants, conduct credit and background checks, and income verification.
Once you find the perfect renter, you can create your rental lease using an online lease builder or upload your version and have it signed electronically.
Collect rent payments and move-in fees online and have them deposited straight into your bank account.
Zillow's landlord tools are built by industry experts and the brand that knows real estate.
Your first listing is free, then $9.99 per week after that. Zillow bills by the week, so you won't get charged a whole month if your property rents in days.
There is no clear way to separate listings and rent collection and the software can be confusing at times. If you have a lot of turnover, a comprehensive solution like Zillow Rent Manager might be a good fit for you. Smaller landlords could find the site difficult to use.
Every month, over 35 million renters visit Apartments.com looking for a home. In addition to apartments, renters can also search for houses, condos, and townhomes to lease. Using their expertise in the rental market, Apartments.com has created tools to help landlords manage their properties.
When you're ready, list your rental free of charge.
If a prospective renter likes what they see, they can apply directly from your listing.
Run detailed credit checks that include a breakdown of an applicant's total reported debt, detailed payment history for credit accounts, and employment and address history.
Create a lease in minutes using the online wizard that guides you through every step of the process. Answer a few questions, and the wizard can incorporate the specifics of your rental agreement into the lease.
Collect rent with automatic payments that are deposited directly to your bank account every month. Tenants have the option to set up recurring rent payments online.
Track expenses by property, assign them tax categories and attach images of receipts directly from your phone.
Tenants can request repairs through the app with all the details they need, including photos and videos. You can forward those details to service pros, then update tenants about maintenance and contractor visits right from the portal. 
According to PC Magazine, Quickbooks is the number one provider of small business accounting software in the world- so it would make sense that this is a popular property management software solution for landlords. Since 1983, Quickbooks brand products have helped businesses of all sizes manage their finances with ease. Though they don't offer a specific product expressly designed for property management, you can handle all of your accounting tasks with their Small Business Plus Plan. ($80 /month. Try it for three months at the introductory price of $35/month.)
Send invoices and accept online rent payments.
Track your mileage and maintenance expenses to maximize tax deductions. Easily capture and organize relevant receipts.
Manage 1099 contractors who you hire to do simple maintenance.
Manage and pay bills related to mortgages, HOA fees, utilities, staging, photography, advertising, and property maintenance.
Track your profitability and easily share information with an outside accountant or tax preparation service.
ACH rent payments will cost the landlord 1% of the payment amount ($10 on a $1000 rent payment) and credit cards are charged between 2.4% and 3.4% depending on how the payment is made. Those fees are the responsibility of the landlord so QuickBooks is not the most cost-effective way to collect rent. You'll still need to handle several tasks like credit checks, lease creation, and maintenance requests the old-fashioned way.
Being a DIY landlord comes with endless demands, not the least of which is collecting rent. Chances are you have a mortgage to pay on the property you're leasing, so you need to be paid on time. Landlords can count on PayRent to reliably and securely collect rent, kindly but firmly enforce your rent payment policies, and give you tools to minimize your property management workload. PayRent's property management software is the perfect fit for many DIY landlords who already have processes in place. It allows landlords to collect rent, track renter's insurance, send past due notices, and more.
There are many online options available for collecting rent, but most of them don't offer the security and control you can get through the PayRent rent collection app. Your banking information remains private and secure to minimize the risk of fraud. Payments are processed through the world's largest and safest financial institutions. And you make the rules ahead of time when it comes to late or partial payments. The last thing you need is to have an adversarial relationship with a tenant living on your property. 
PayRent's mission is to help build positive and productive relationships between landlords and renters. Happy, responsible, long-term tenants can provide a low-stress second income stream for DIY landlords. To help renters, PayRent offers options like auto-pay to help relieve the stress of delivering payments on time. When they use the app to pay rent, they can earn RentCred™, which gives them access to emergency cash for rent when they need a little help. Paying rent consistently and on time can help them boost their credit scores.
RentDefense™ protects landlords from late and lost rent with rent collection tools and controls available only on PayRent. Using all of these features together helps to minimize the risk of not getting paid on time. Features include:
Bank Balance Verification virtually eliminates payments returned for non-sufficient funds.
Payment Controls require renters to pay the entire balance due to help you maintain greater control over your cash flow. (In the unfortunate circumstance of eviction, these payment controls allow you to block partial payments.)
Scheduled Payments give renters the option to schedule one-time or recurring future payments to make rent collection more predictable.
Automated Late Fees are added when rent is past due to help keep rent payments on schedule. (Available in the Do-It-Yourself and Go-Like-A-Pro Plans.) 
Rent Collection Enforcement lets you choose a relaxed or strict rent collection policy to enforce scheduled recurring payments or require a backup payment method. (Available in the Do-It-Yourself and Go-Like-A-Pro Plans.)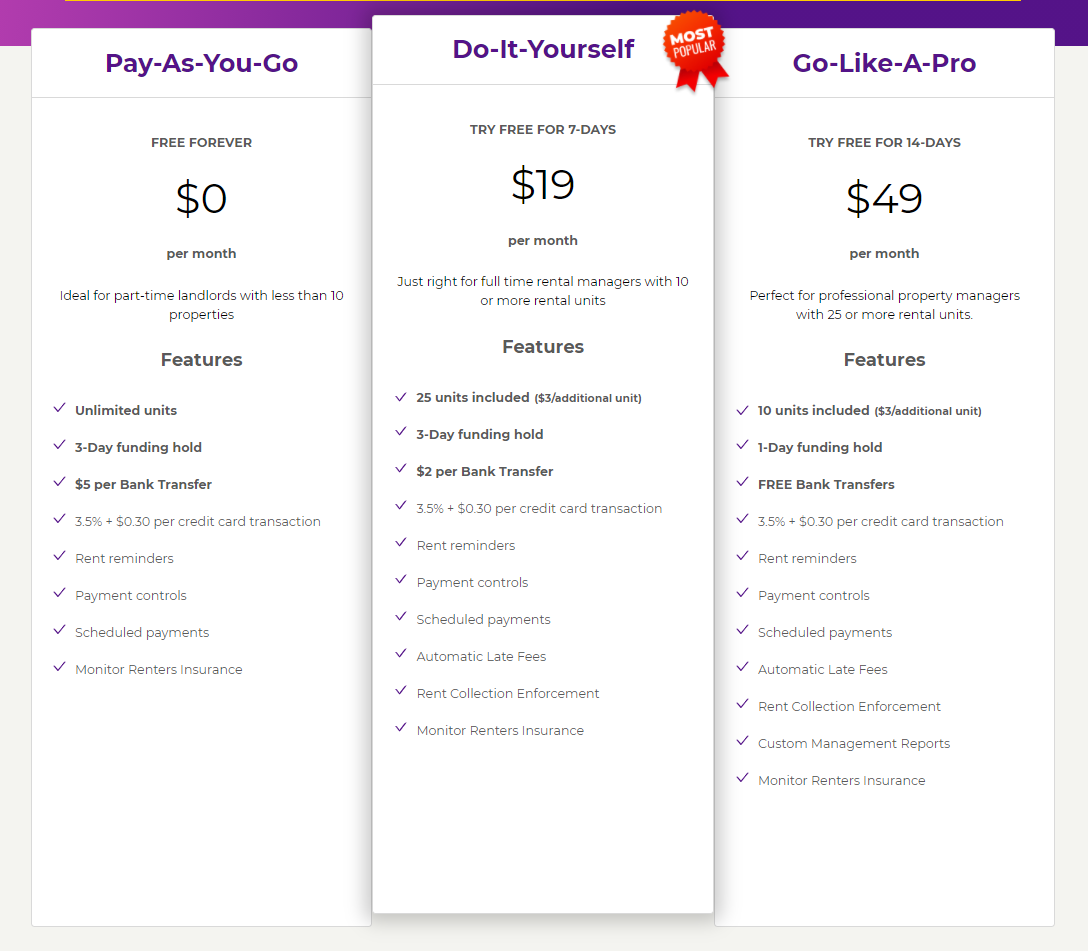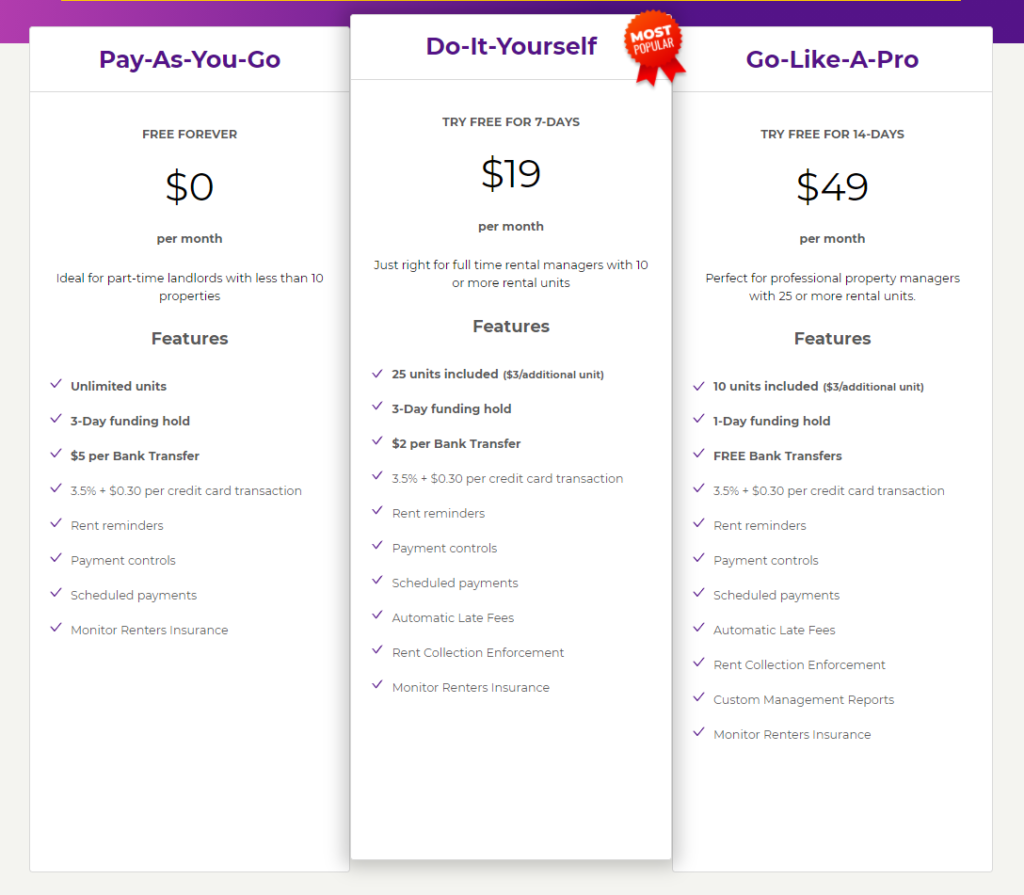 Getting Started with PayRent
Signing up for the Pay-As-You-Go Plan is quick, easy, and it's FREE.
Sign up. All you'll need is your federal tax ID (SSN or EIN) and bank routing and account information to get started. We'll verify your identity on the spot to make sure payments are safely transferred, and you'll be ready to accept rent payments in as little as 5 minutes.
Add your properties. Once you've enrolled, adding rental units is easy. Each unit can have its own settings for payment due date, partial payment acceptance, and blocking payments. You can take care of the transaction fees, pass them on to the renter, or split them between you and your renter.
Invite your renters. Add your tenants to the platform; then, they'll receive an email invitation to join the service. PayRent.com is available via chat or phone to help them through the process of adding a payment method.
PayRent takes away the hassle of collecting rent, leaving you with more time to do the things that will add value to your property. Sign-up is quick, easy, and free! At PayRent, we do everything we can to make paying rent a breeze. Reminders, fund verification, and even cash advances are available to tenants who qualify. You can stick to painting the shutters while we make sure you get paid.